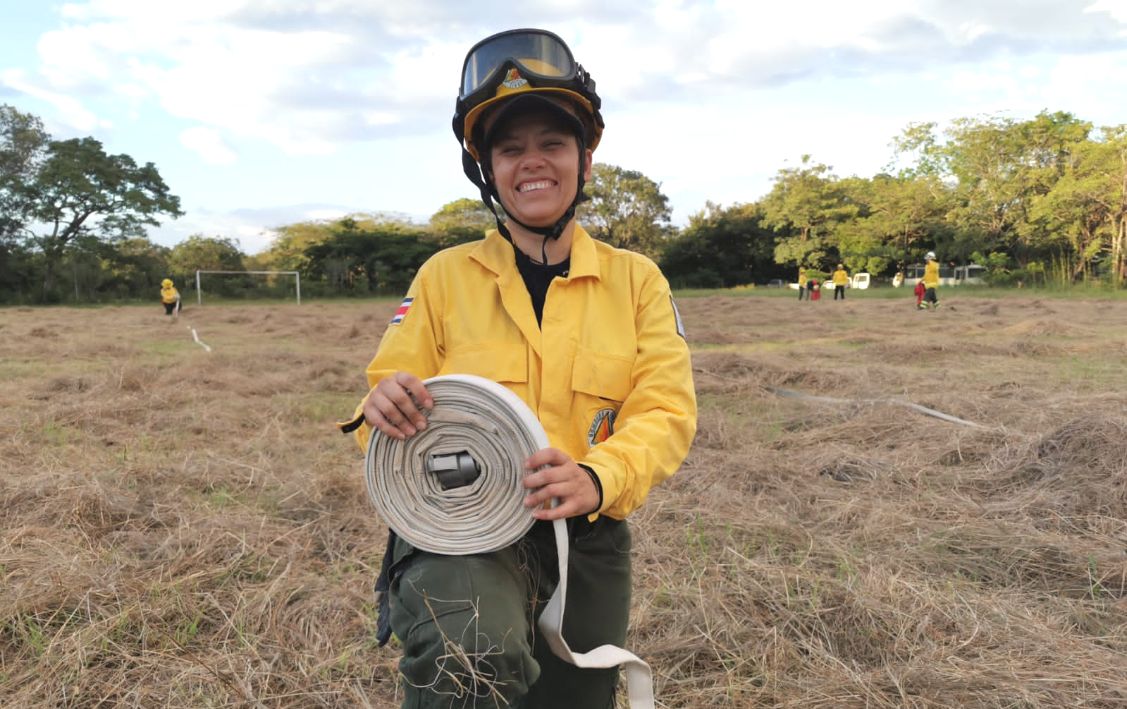 Priscilla Carbonell Ramírez doesn't resent fire even though she has to combat it as a forest firefighter. She was at the forefront of that fight in Palo Verde National Park, against a fire that consumed some 3,000 hectares (7400 acres) of the wetland that stretches along the banks of the Tempisque River.
"Fire always has something to contribute. It was what made us form a society, brought us together and made us evolve," said Priscilla. On some occasions, a fire has challenged her for up to 15 days in a row in the middle of the forest, and she has always felt ready to face it.
Priscilla, who is 37 years old, has accumulated more than two decades of experience fighting fires. She remembers that she became interested in this field when she was 15 years old, after camping in Barra Honda National Park, in Nicoya. Her career as a forest firefighter and park ranger began there, surrounded by nature in Guanacaste.
With Nature as a Guide
Years after that camping trip, Priscilla found a path for her interest in nature, getting a bachelor's degree in Natural Resource Management and Protection and a master's degree in Natural Resource Management, and volunteering for the National System of Conservation Areas (Spanish acronym: SINAC) starting in 2005. In 2018, she became an official Sinac employee and since 2021, she has been the administrator of the Lomas Barbudal Biological Reserve, located in San Ramón in Bagaces.
There are 2,646 hectares (6,538 acres) of biological reserve that Priscilla must protect as an administrator, park ranger and firefighter, leading a team of four people. She appreciates the reserve where she works for a very special reason: it's one of the last remaining pockets of tropical dry forest in the world.
However, her work has had very bitter episodes, such as the forest fire that she faced for two weeks in a row last year, which left tremendous damage.
Being a firefighter means fighting against the risk of losing animals, plants and ecosystems that may never recover from the fire. That is a constant concern in the first half of each year, during Costa Rica's forest fire season.
The country's climate in the dry season contributes to any mismanaged fire becoming a nightmare, especially in areas of dry forests like the ones in Guanacaste. That's why fire brigades have to stay alert.
With fire, you can't believe that you're an expert. Fire is a good teacher and a lousy student," Priscilla said with respect for her rival.
It's painful to see a forest consumed by fire, to find animals dead and burrows destroyed. However, Priscilla also recognizes that fire is nature's great misfit, since some forest species need it to develop and flourish.
Professional Firefighter
To deal with forest fires, Priscilla has received training on effective water management, how to do controlled burns and much more. Over the years, she has seen changes in fire management techniques.
"In 2005, we didn't have the training or the equipment to use water to fight fires, and we fought them in fatigue pants," she recalled. In contrast, water is currently vital to fighting fires, as are appropriate personal protective equipment and tools such as blowers, motorized pumps, and drip torches.
Even so, the knowledge to combat fires goes far beyond knowing tools or using safety gear. Priscilla knows how to determine how to counterattack the fire based on the trees it is affecting. Her experience also allows her to understand that communication, teamwork and coordination between teams is vital in an emergency, too.
Priscilla enjoys lifting weights, practicing karate and boxing because, in the end, good physical condition also becomes an ideal tool for fighting fires.
 
A Woman in a Man's Field 
Priscilla's role as a leader has motivated her to convince other women to get involved in protecting forests, in a career field that has been filled mostly by men. Beyond gender, in fighting fires, mental and physical resistance, a sense of commitment and empathy are important to strengthen the team's confidence and safety.
Priscilla pointed out that she has noticed a greater presence of female firefighters over the years, and pointed out the importance of continuing to create training and leadership that includes women in this field, to shatter the false belief that their participation in the field is limited.
Being close to nature and having the opportunity to help protect it is Priscilla's greatest satisfaction. Her motivation has also been strengthened in the hardest moments of her work, when she has seen people from Limón and the Osa Peninsula come to Guanacaste to put out a fire.
About 99% of fires are caused by human actions, whether out of carelessness or intentionally. So we can prevent further degradation of the forests before smoke and flames appear, and before Priscilla has to face the fire. She made it clear to us that prevention is a fight that all people can participate in, whether they are firefighters or not.
---
This article was originally published in La Voz de Guanacaste in Spanish.
Learn more about UNDP Costa Rica's forest protection efforts here.