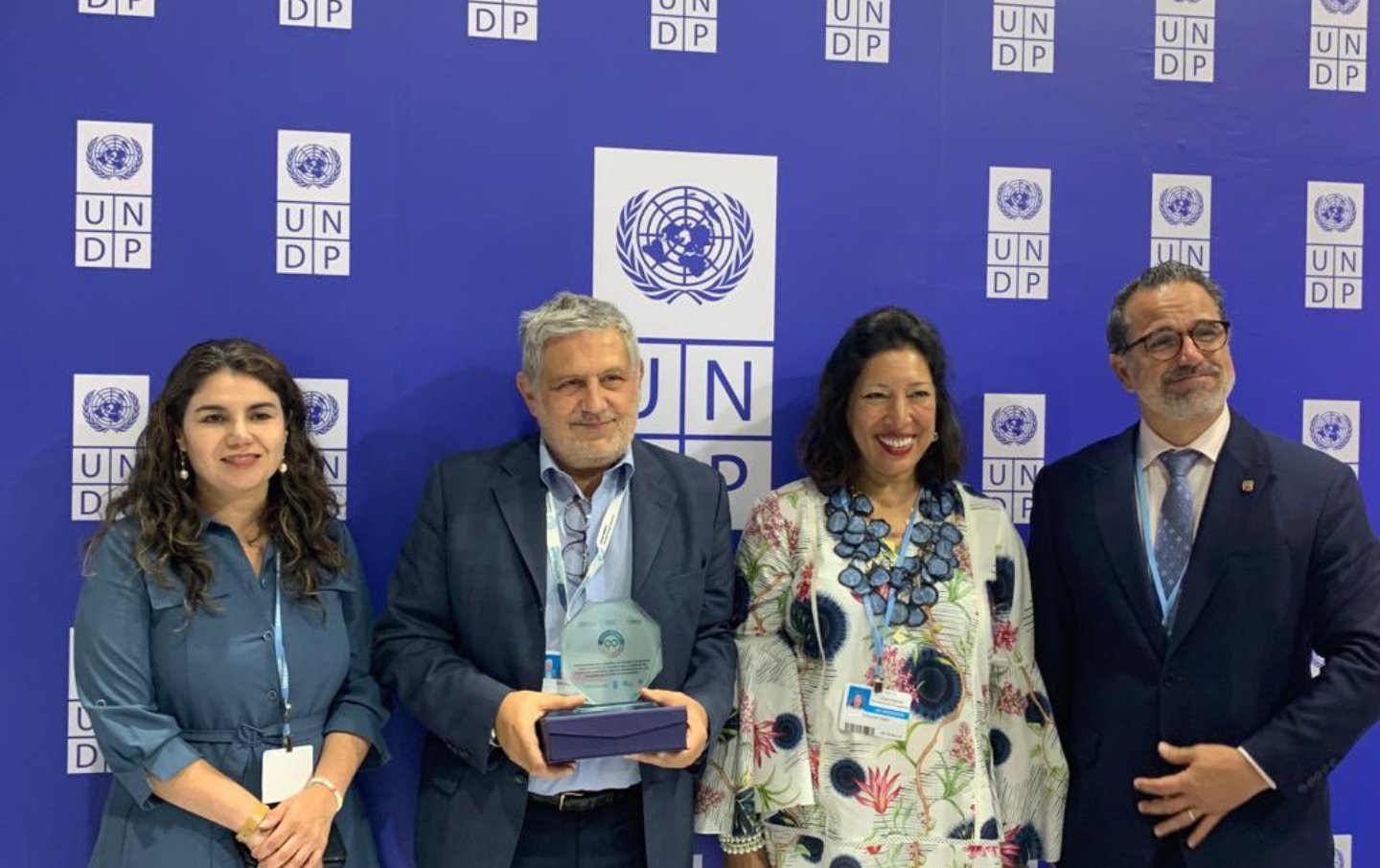 14 November 2022 - Sharm el Sheikh, Egypt - When the drivers of deforestation are buried deep in the supply chain, innovative and collaborative solutions are required. Ecuador launched its national certification scheme for deforestation-free coffee and cocoa production at the UN Climate Change Conference (COP27) today. 
The certification scheme creates a bridge between Ecuador's foreign commodity trade and its national climate action. The announcement was made at an event hosted by the United Nations Development Programme (UNDP), together with Ecuador's Minister of the Environment and the Chief Sustainability Officer of Lavazza, featuring the first samples of certified commercial deforestation-free coffee and cacao. Statements by the Minister of Environment of Ecuador and Lavazza's Chief Sustainability Officer were complemented by video contributions by farmers from the Ecuadorian Amazon and the General Manager of the Guido Gobino and Silva Cacao- two partner businesses, showing the multi-stakeholder nature of this partnership that serves both the economy and the planet. 
This pioneer deforestation-free certification scheme uses Ecuador's national forest monitoring system, with carbon assessment methodologies validated by the UNFCCC, together with digital traceability systems, like QR codes, to verify that production is free from deforestation. The certification is traceable along the commercial chain, from the participating farmers up to the individual consumer. Until present, sustainability certification for coffee and cocoa has been based on voluntary project approaches and independent, NGO-based, certification schemes. Aiming to catalyse transformational change, Ecuador has established a policy mechanism to stimulate and monitor deforestation-free production, and to certify it, using digital technologies to connect the producers at origin with consumers in international markets. This initiative advances Ecuador's national climate pledge (known as its 'Nationally Determined Contribution') and provides proof of concept for a model of deforestation-free commerce.
The first products, coffee, and chocolate, to reach international markets certified under this scheme demonstrate a that agricultural sustainability requires multistakeholder collaboration. In this case, the result of a nature-oriented, economic partnership between a government (Ecuador), farmer cooperatives (from Amazonia) and international companies (led by Lavazza and Silva Cacao), each leveraging their respective skills and means for a common goal: Deforestation-free premium quality commercial sustainability. UNDP provided technical support for this initiative through Ecuador's PROAmazonia programme, working with Lavazza and local producers to develop a model to deliver premium quality deforestation-free coffee.
Ecuador's Minister of the Environment, Mr. Gustavo Manrique, highlighted that this governmental scheme unites three ministries (agriculture, environment and foreign trade) that have jointly elaborated it, converging their policies. He stated, "it gives us hope that the national deforestation-free certification scheme and partnership with Lavazza has enabled farmer cooperatives to improve their products such that they can access international markets directly and earn a premium for their effort."
The Chief Sustainability Officer of Lavazza, Mr. Mario Cerutti, said: "Lavazza Group is very honoured to be the only coffee company involved in this project since the beginning. This initiative is the proof that high quality coffee can be combined with environmental and social sustainability features, and we believe that Ecuador can become a concrete example for many other coffee-producing countries".
The UNDP Senior Advisor for Sustainable Finance, Ms. Mahenau Agha, said: "UNDP is honoured to accompany Ecuador in this amazing journey towards deforestation-free agricultural production, this exemplifies how local action can deliver global impacts for climate, forests and people."
Camilo Luzuriaga a coffee farmer from the Ecuadorian Amazon that has participated in the scheme, expressed "As APECAP's [cooperative] legal representative of more that 200 coffee producers, I feel very proud to be able to see that our product is been recognised in the international market. That other people are building the work and effort that we make as producers and above all that is economically rewarded so that in this way the producers can live with dignity."  
The partners of this innovative sustainable commerce venture underlined their commitment to scale up the effort – both within Ecuador and in other interested countries across the world – to be on track for net-zero by 2030.
* UNDP does not endorse any entity, brand, product, or service