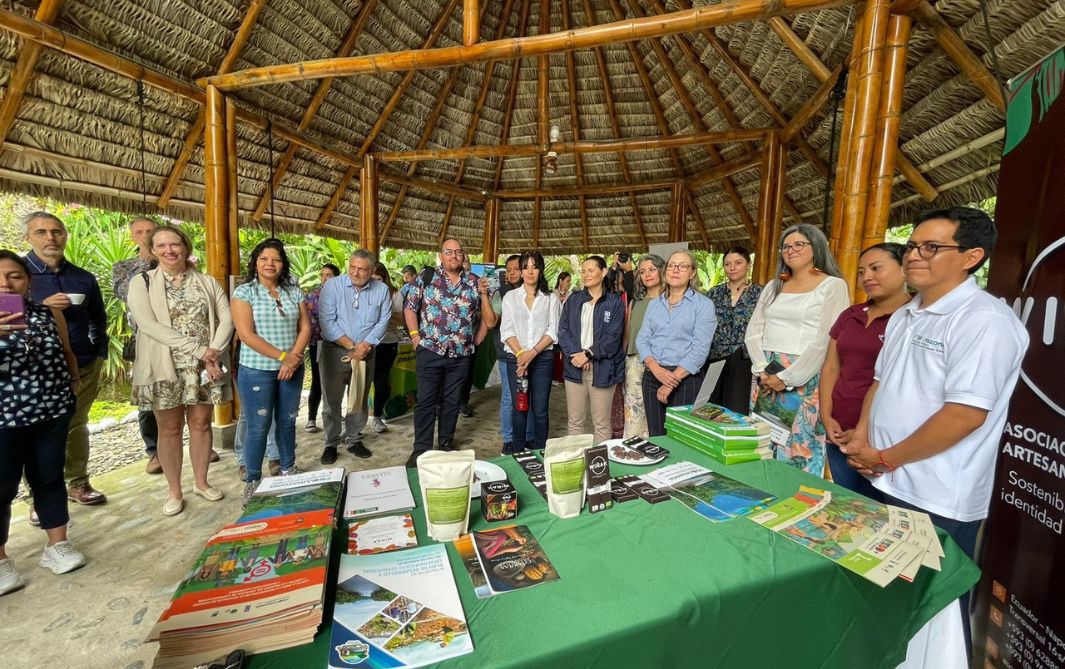 The Shandia Kichwa community in Napo, an Amazonian province, recently hosted a significant gathering. This event, marking the conclusion of the first phase of the Comprehensive Amazon Program for Forest Conservation and Sustainable Production - PROAmazonía, brought together national and international authorities, representatives of indigenous peoples and nations, and strategic partners. 
This pioneering program is a collaborative effort between the Ministry of Environment, Water, and Ecological Transition, and the Ministry of Agriculture and Livestock. It has garnered funding from the Green Climate Fund (GCF) and the Global Environment Facility (GEF) with support from UNDP acting as financial intermediary, as well as technical assistance through the UN-REDD Programme.  The program forms a critical part of implementing Ecuador's REDD+ Action Plan: "Forests for Good Living" 2016-2025 and has seen an investment of approximately 53 million dollars over six years. 
Gabriela Manosalvas, Deputy Minister of Environment, reflected on the program's success: "We are celebrating the fruits of six years of dedicated effort, in partnership with the communities that made it possible. This is a call to action to continue fostering initiatives that drive sustainable development, fortifying our commitment to safeguarding the Amazon for ourselves and future generations." 
Ana Mari Ordóñez, Undersecretary of Forest Heritage at the Ministry of Agriculture and Livestock, highlighted the program's role in aligning national goals with sustainable development. "PROAmazonía demonstrates an exemplary collaboration in reducing deforestation and aligns with our commitment to sustainable agricultural development," she stated. 
PROAmazonía has notably focused on reducing deforestation and CO2 emissions. Working closely with the GCF and GEF, the program has made a significant impact on forest protection, benefiting 79,000 people across various indigenous communities, including farmers and local governments. Its approach encompasses four key components: policy and institutional development; transition to sustainable production systems; conservation, restoration, and sustainable forest management; and implementing REDD+ and securing financing. 
Key achievements of these strategic components include the development of planning tools for 28 Decentralized Autonomous Governments, updating the Comprehensive Amazonian Plan with climate change and conservation considerations, training 807 indigenous people and local officials, and transitioning over 93,000 hectares to sustainable production. 
Furthermore, PROAmazonía has established numerous national and international commercial partnerships, endorsing sustainable, deforestation-free agricultural practices. These efforts have led to the conservation of 789,099 hectares of forest and water basins and the restoration of 15,023 hectares in the Amazonian provinces. 
Mario Cerutti, Director of Institutional Relations and Sustainability at Lavazza Group, was acknowledged for the company's commitment to environmentally respectful practices and sustainable products. Cerutti praised Ecuadorian coffee producers for their dedication to quality, emphasizing Lavazza's commitment to sustainable initiatives like PROAmazonía and the broader goal of combating deforestation. 
Silvio Kasep, President of the Yamanunka community, representing the program's beneficiaries, expressed gratitude for the support provided to Amazonian indigenous communities. He highlighted the importance of knowledge transfer about climate change and forest management, aligning with the communities' cultural values. 
Matilde Mordt, UNDP Resident Representative in Ecuador, and Patricia Serrano, Manager of PROAmazonía, both underscored the program's role as a regional benchmark in sustainable development and REDD+ focused actions. The collaboration with CONFENIAE has been vital in supporting the 11 indigenous nationalities of the Ecuadorian Amazon, respecting and integrating their traditional knowledge and worldview in forest management. 
The successful completion of PROAmazonía's first phase represents a significant milestone in the Amazon region. The program stands as a potential model for future sustainable investments, both in Ecuador and globally, under the REDD+ framework. 
Learn more here: https://www.youtube.com/watch?v=XagL-FHV5uQ