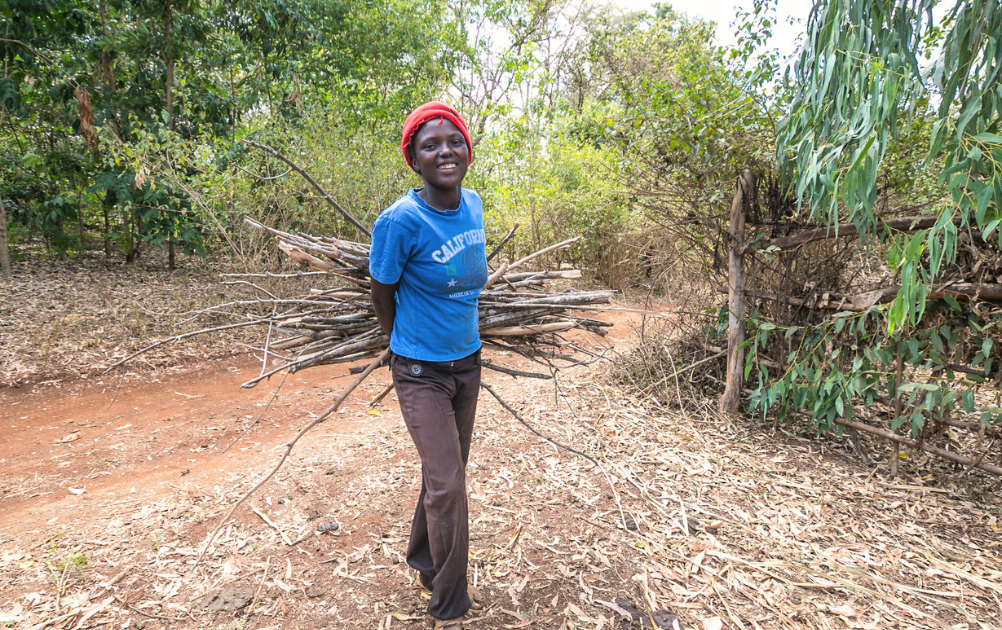 As recent research and global policy dialogues suggest, the carbon market landscape uses varying degrees of social and environmental safeguards, with gender often the least regarded aspect, sometimes completely absent. While it is now recognized that integrating gender and ensuring women's representation in climate projects and policies can lead to more efficient use of resources, lower emissions and more sustainable outcomes, large gender gaps continue to persist in climate-focused financial flows, benefit sharing and leadership arrangements.
 
Recognizing these gaps and the under-representation of women in the carbon market and the positive impact a gender approach can bring, the UN-REDD Programme has been providing catalytic support in 2023 to mainstreaming gender in REDD+ finance, including within the voluntary carbon market (VCM).
 
Most recently, the UN-REDD Programme organized an online knowledge exchange and capacity building event on VCM with gender and women's-focused organizations, with an aim to address the lack of women's representation, voices and leadership across the growing carbon market sector. Preparation of this two-hour event involved a stakeholder mapping exercise to identify organizations supporting gender equality and women's empowerment who are also working on or wanting to learn more about the VCM. This exercise included 32 people (31 women and 1 man) from across Latin America and the Caribbean, Africa and Asia-Pacific, with many others interested in future discussions.
 
The event provided a brief introduction and overview of the VCM landscape and how gender is currently integrated. As well, feedback was obtained from participants on the challenges and opportunities in mainstreaming gender and increasing the involvement of women's organizations.
 
Gabriela Soto Nilo, Head of the Department of Climate Change & Environmental Services for the National Forestry Corporation in Chile and UN-REDD Gender Champion, opened the event. She highlighted some critical barriers facing women within climate finance benefit systems, stressing land tenure inequality as a key root cause of such issues.
 
Leticia Guimaraes, Senior Global Technical Advisor from UNDP's Climate Hub, provided an informative introduction on VCM, focusing on topics such as compliance versus voluntary markets, scope and scale, range of carbon standards and the role of safeguards.
 
Participants highlighted gaps within carbon market projects, such as women's equitable involvement as agents of change and use of qualitative gender data and indicators, as well as a lack of mandatory gender requirements within carbon market standards. Given the complexity of the VCM, participants also stressed the need for additional efforts to explain the VCM to women at the community level. Due to patriarchal structures, women are still often absent in decision-making spaces at the national level, where there is a lack of knowledge on the relevance and need for a gender approach in carbon market engagement. As one participant said: "What is not seen, is not answered."
 
A key recurring issue that surfaced in these discussions was the reality of how gender inequalities within land tenure and ownership reinforce deep gender inequalities in the VCM, including related benefit sharing schemes and decision-making processes. For example, while women are a significant percentage of farmers and contribute to the generation of carbon credits, payment arrangements made through community schemes often do not involve women in decision-making processes, and community leaders do not see the relevance of gender and women's inclusion in such work.
 
An additional UN-REDD online workshop with stakeholders from the VCM took place in September, 2023. This workshop facilitated a stakeholder dialogue to share awareness and identify options to enhance gender mainstreaming within the VCM. Gender networks, VCM stakeholders and private sector entities identified concrete ways to address the gender gaps present in the VCM. A gender and VCM info brief will be produced later this year, providing guidance on how to integrate gender into the VCM. 
 
Furthermore, to promote additional knowledge sharing on this topic, an online and public Community of Practice (CoP) on gender and the VCM was launched in June, 2023. This CoP was developed to help address the large gender gaps around the VCM and aims to create a knowledge sharing platform amongst a range of stakeholders. All interested parties are encouraged to join.
 
To join please visit https://forestclimatesolutions.dgroups.io/g/gender/.
This UN-REDD support on gender within the VCM will help make gender gaps more visible, provide support to address them, and integrate women's voices.
The article was originally published on the UN-REDD website.